Traditional Rowing 2
08/02/2022 05:30 PM - 08:30 PM ET
Description
Class: Traditional Rowing 2
Dates: Tuesday, August 2, 5:30pm–8:30pm
Registration Deadline: Saturday, July 2, 2022
Rowing has been pivotal to all working waterfronts for as long as people have taken to the water. Only in the last century was rowing replaced with motors as the main way to move people and goods around harbors and ports. Join us as we return to this tradition with a fun row on the creek.
This class is designed for the returning student who has taken Introduction to Traditional Rowing. There will be much less on shore instruction and more time in the boat rowing. We will choose from our fleet of traditional row boats to meet the class's needs and experience and hit the water first thing. Once on the water we will head up the historic Rondout creek or head out to the Hudson River, depending on conditions. An instructor will be with the class the entire time, either rowing along with everyone or nearby in a safety boat. This is a great class to build your traditional rowing skills while getting on the water with an instructor close at hand. Boats used for this class are traditional wooden row boats that are 10-14 feet long and hold 1-2 people per boat.
Please contact Becky Sellinger, Wooden Boat School Manager, at bsellinger@hrmm.org with any questions.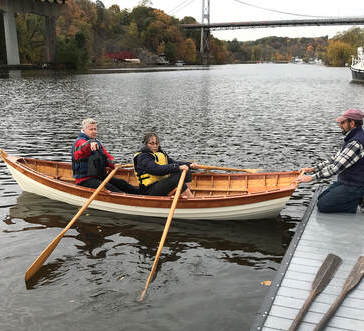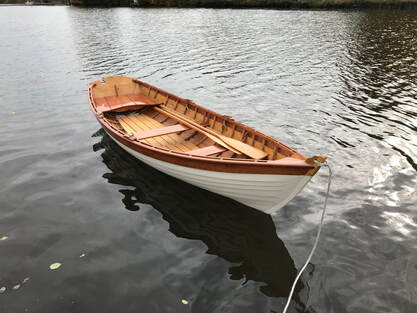 REGISTRATION
General Public: $55
Individual Member Registration: $50
Member at Household Level & Above: $45
**Members must log into the museum website during registration to apply their discount. Please note membership must be current as of the date of the class. Call the museum at 845-338-0071 for questions about membership.
Class Size: 6
Instructor: Wayne Ford
Location: Hudson River Maritime Museum
Wooden Boat School Shop
86 Rondout Landing
Kingston, NY 12401
Cancellation Policy: Full refunds will be offered for cancellations that occur 30 days or more before a program's registration deadline (if no deadline, the first day of the program). Cancellations between 30 and 7 days will be offered a 50% refund or credit toward another class. Cancellations after the registration deadline or within 7 days of the first day of class (whichever comes first) will not be refunded.